Defining a spool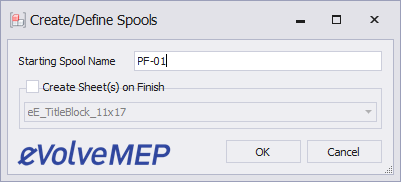 From the ribbon, click the eVolve Electrical tab, then click Define Spool from the Spooling panel.
From the Create/Define Spools window, specify a name in the Starting Spool Name dialog box and click OK.
The spool name must end with a numerical value.
Clicking the Create Sheet(s) on Finish checkbox may increase the processing time depending on the number of spools and spool size.
From the model, select desired elements to spool and click Finish from the Options Bar.
Selecting additional elements for spool increments the numerical value in the spool name.
After all selections have been made, click Finish from the Options Bar.
Relevant Articles
---
---