Workset Manager
The eVolve Workset Manager
The eVolve Workset Manager feature has immensely expanded on the capabilities and uses of the Revit Workset tool. Now users can use the eVolve Workset Manager to assign multiple categories to a workset as well as create and assign rules to worksets. These can also be applied automatically or manually. This feature can put an end to the time-consuming task of manually assigning drawn elements to worksets.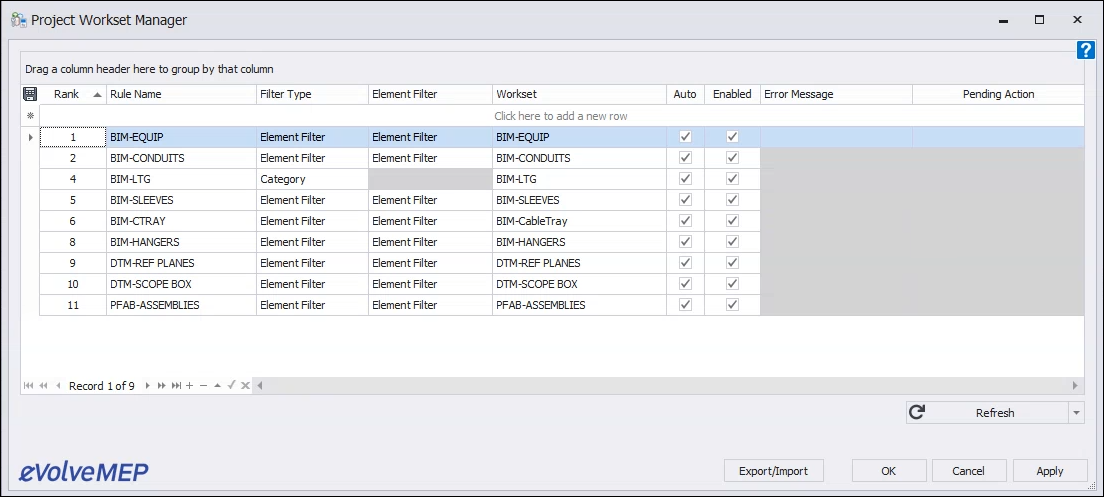 Managing Worksets
From the Manage Collaberation panel, in the Collaborate ribbon, Make sure the project is setup as a Workset enabled project.
From the Utilities panel, in the eVolve Electrical ribbon, click on Workset Manager.
From the Project Workset Manager window, click where prompted in the center of the window to add a new row.
Under Rule Name, enter a name for the new rule.
Under Filter Type, select Element Filter.
Under Element Filter, click on the right section of the field, with three small dots, to open the embedded element filter.

From the Embedded Filter window, under the Categories tab, multiple categories can be selected to be assigned to a workset.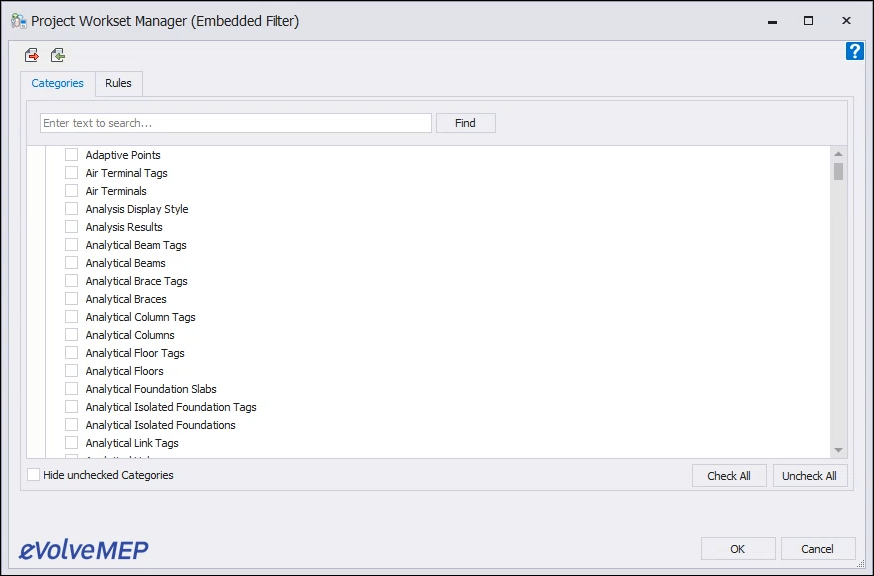 Under the Rules tab, users can create custom rules with thousands of possibilities.
When finished in both tabs, click OK.
From the Project Workset Manager window, under Workset, click in the empty field to bring up a list of available worksets in the project and select one to use for this rule.
Under Auto, click the Checkbox to have this rule applied automatically to newly drawn parts. (Recommended Setting)
If Auto is turned off, then the rules must be applied manually when ready. From the Project Workset Manager window, make sure that the rules about to be applied have been enabled and click the Refresh button. Select Current View or Full Project when prompted.
Under Enable, click the Checkbox to have this rule enabled. (On or Off)
Click OK.
Once created, rules can be exported and imported for future project use from the Project Workset Manager window. Any rules that were checked to auto and enabled will be applied to parts being drawn and the Revit Workset parameter will also be updated automatically.
To View Color-Coded Worksets in View
To get a look at the various worksets in a view, each with its own color, use the Revit Worksharing Display feature at the bottom left of the modeling area. Click the Worksharing Display button in the View Control Bar, and select the Worksets option from the menu. Preset colors will be applied to each workset. These colors can be changed by selecting Worksharing Display Settings from the Worksharing Display menu.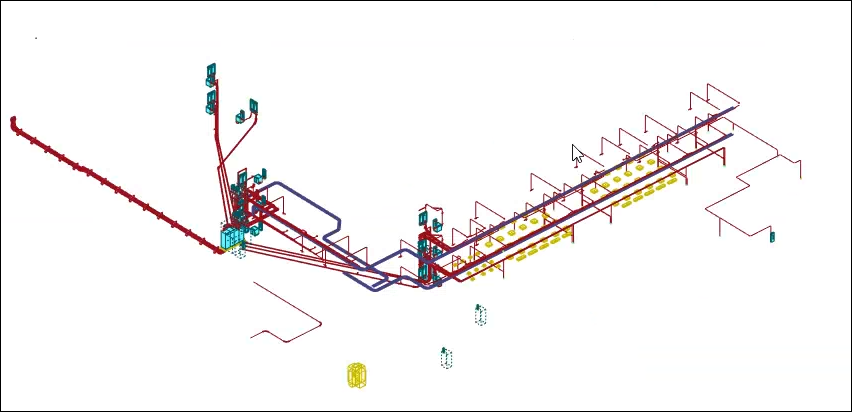 ---
---