Overview of the Family Browser
The Family Browser is designed to locate content based on family parameter values easily. Families may be grouped, filtered, and/or searched to limit content and fine-tune the displayed results. Expand search results by adding custom libraries that may reside on a local machine or company network.
The Family Browser has two different view types, Card View and Grid View. The Card view displays information about each family and/or type contained within the library, however, the displayed information is limited by predetermined fields. The Grid View can display all of the information contained on the card view and also the metadata extracted from the .xlsx file at the time the library was created.
The Card View
eVolve allows cards to be organized in three tabs, All, Favorites, and Recent. The All tab shows every card in the library. Cards can easily be added to the Favorites tab by clicking the star icon in the upper right corner of the card. Once clicked, cards appear in the Recent tab. The Recent tab has a display limit of 20 cards.
NOTE: The All, Favorites, and Recent tabs are only utilized in the Card View. However, cards may be "favorited" from the grid by selecting the Favorite checkbox.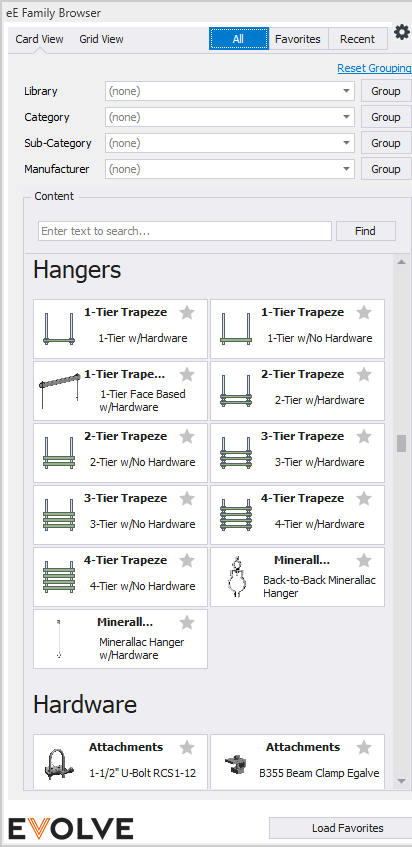 The Grid View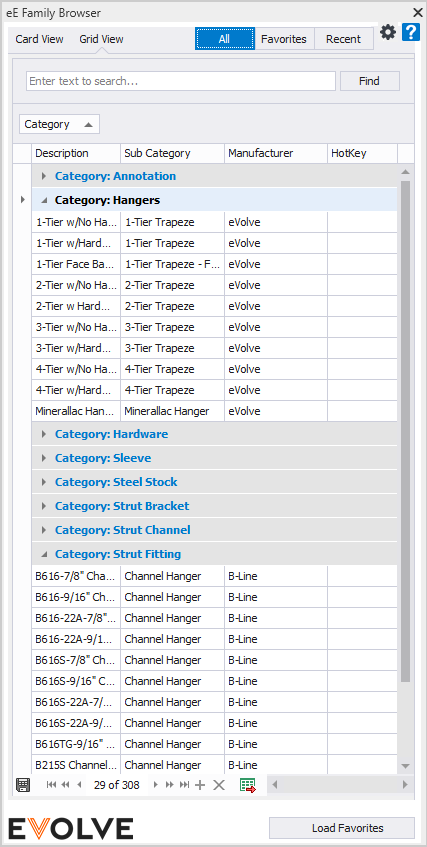 TIP: You can assign shortcuts to your families for quick placement within Grid View.

eVolve version 3.0 and greater ships with predefined content that is continually being updated. However, you may also add content that can be filtered, grouped, and searched with the Family Browser. See Library Configuration in the Relevant Articles section below.
Using the Family Browser
The Family Browser is a dockable window. The window size and location are remembered for future sessions. Typically, the browser is placed on a secondary monitor to access the content easily.
The Family Browser's filtering and grouping feature display cards to quickly find relevant content.
The Family Browser's search feature is a powerful tool to zero in on specific content quickly. The search tool may be used in conjunction with the filter and grouping features or may search all libraries.

Relevant Articles
---
---